Oven with round-shaped burner and traditional finish
Ref. HORNI_TR_
Assembled wood-fired oven with round-shaped burner and traditional finish or cement / clay / straw of different sizes according to the needs of our customers.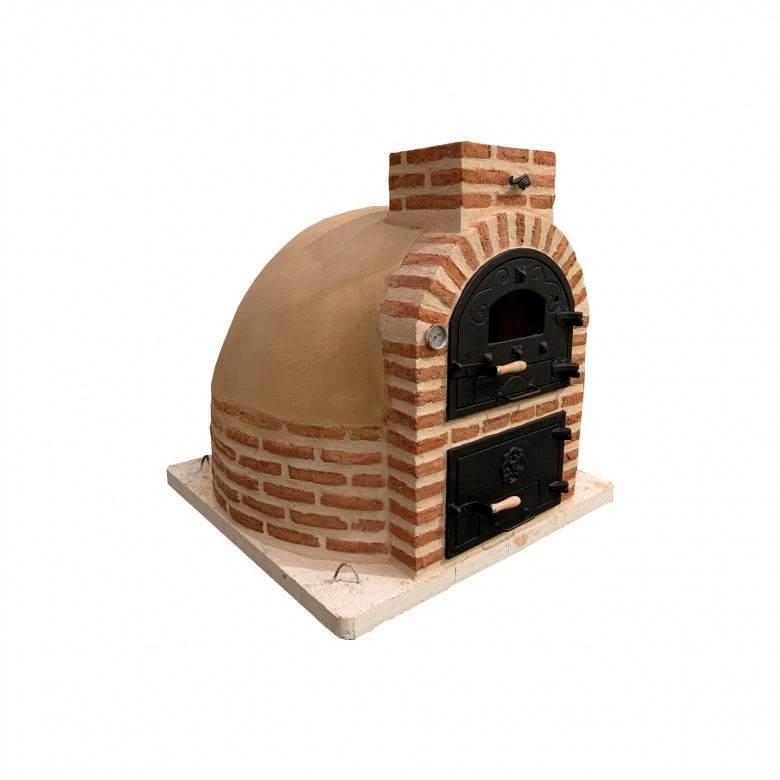 OVEN WITH ROUND-SHAPED BURNER AND TRADITIONAL FINISH
1. INSULATING AND MATERIALS
All the materials used to make the clay oven its subsequent insulation are of the highest quality, being an oven with a high content of kaolin (white clay that transmits the refractory power to our pieces, being fired at more than 1100ºC to offer an excellent resistance against fire) and the insulating materials that cover our ovens are composed of 3 layers of refractory clay "CAOLIN" + SIKA refractory mortar + mortar with arylite + waterproofing SIKA + thermal blankets + rustic finish (cement + clay + straw) to achieve a performance and excellent quality with minimum consumption of firewood and minimum time to heat.
The burner is made with artisanal refractory bricks and tiles providing it with double walls filled with thermal blanket and mortar + arlite to prevent the heat condensed in it from radiating to the outside. The burners have great amplitude taking full advantage of the base or concrete support where it starts to be manufactured so that we can even use it as an oven or barbecue at the same time as the oven.
The accessories used for the oven, such as doors, draughts or thermometers, are made taking care of quality and aesthetics.
The oven has an extra cast iron door with anti-smoke system, cast subframe, pins to anchor it on site, with air intake regulator, wooden handle and hollow for thermometer. THIS DOOR CAN BE CHANGED BY ANOTHER ONE THAT THE CUSTOMER REQUIRES US AND THE PRICE WILL ONLY BE INCREASED ACCORDING THE EXISTING DIFFERENCE BETWEEN THEM.
The burner has a special rectangular-shaped burner door that is very wide so that the firewood or a grill can be easily introduced and it also has a rotating visor, a hollow for thermometer and an air intake regulator in the form of a trap.
The draught / chimney has an exhaust stack regulator and our customer can choose if they prefer it frontal or lateral.
THE INSTALLATION OF BOTH THE DOORS AND THE DRAUGHT IS MADE WITH ARTISAN REFRACTORY BRICKS MADE ONE BY ONE WITH THE SAME CLAY USED IN OUR OVENS, GIVING IT A SPECIAL AND UNIQUE FORM AS EACH OVEN IS ALSO UNIQUE.
3. OVEN MEASUREMENTS.
We have 33 measurements available for our customers to choose, but we indicate the price of the most sold measurements that are 85, 90 and 95 cm (outside measurements, useful space 7-8 cm less). If you like to know the price of the other measurements, you only have to consult us, we will be delighted to assist you.
PRICES INCLUDE THE VAT + SHIPPING TO SPAIN MAINLAND (CONSULT IN THE CASE OF ISLANDS) + TRANSPORTATION INSURANCE UNTIL YOUR ADDRESS (IT DOES NOT INCLUDE PLACEMENT)
ALL THE ACCESSORIES AND THE OVEN HAS AN UNLIMITED GUARANTEE!!!
We have:
PERSONALIZED ADVICE
MANUAL FOR THE FIRST USES
TWO RECIPE BOOKS
SHIPPING TO YOUR ADDRESS
SHIPPING INSURANCE
ROSA POTTERY WORKSHOP GUARANTEE
ALL INCLUDED
Artisan Registry Number:
49-I-79 ROBERTO PUENTE REDONDO
49-I-83 ROSA Mª REDONDO GAMON
5. PAYMENTS AND PURCHASES THROUGH OUR WEB PAGE:
The choice of payment by bank transfer DOES NOT TAKE ADDITIONAL COSTS
The choice of payment by card CARRIES AN ADDITIONAL COST OF 3% REGARDING THE PRICE
The choice of payment by Paypal TAKES ADDITIONAL COST OF 4% REGARDING THE PRICE
CONTACT
If you have any questions we are available at:
Email: info@alfareriarosa.com
Insert your Name:
Email:
Send