Heat Envelope Stone Oven Round-Shaped Burner
Ref. HORNI_E_PI_
Heat envelope oven with burner with and entirely finished in stone made with refractory clay and patented by Rosa Pottery Workshop.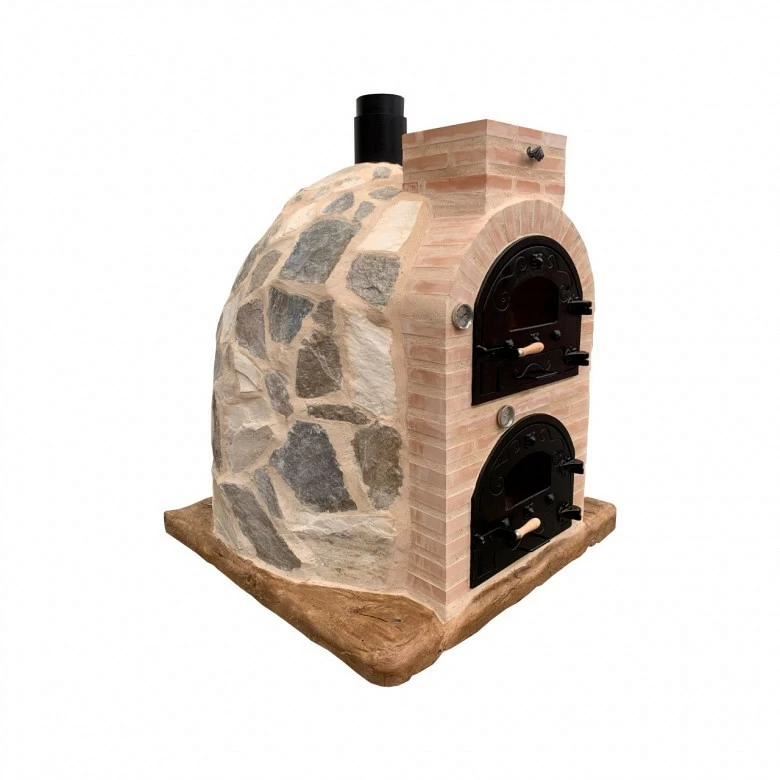 HEAT ENVELOPE OVEN WITH ROUND-SHAPED BURNER AND STONE FINISH.
Patented heat envelope oven with burner manufactured in our facilities with the best materials and all this in a traditional way with Pereruela refractory clay. Unique aesthetics and unbeatable quality.
Its characteristics make it unique in the market being pioneers in the development of this type of heat envelope oven
All the materials used in its preparation as in all our assembled ovens, are of the highest quality and making each of its components in a traditional way such as the refractory clay brick of Pereruela, oven, tiles ... and using other materials such as cements, arlite, mortars, thermal blankets ... of unbeatable quality.
CHARACTERISTICS
The oven has a entirely granitic STONE aesthetic.
The doors of the oven as well as the burner can be customized and the different oven models will depend on it is specified in the lower part of this file as well as the prices. The main recommendation of Rosa Pottery Workshop is that in this type of top quality oven you should put cast iron doors, because the quality of them is unmatched compared to sheets or forges that are weaker materials for fire.
OVEN MODELS ACCORDING TO DOORS TO CHOOSE
The different models change the aesthetics of the oven according to the door to be chosen, all of them with the burner made with round-shaped facing brick and the traditional oven finish.
MODEL 1: Oven with superior cast iron door with glass in the oven and rectangular-shaped cast iron door in the burner.
MODEO 2: Oven with superior cast iron door and glas in the oven and superior cast iron burner without glass.
MODELO 3: Oven with superior cast iron door with glass in the oven and cast iron burner with glass.
CAPACITIES OF HEAT ENVELOPE OVENS WITH BURNER
Exterior measurement of clay oven 80 cm, useful space 70-72 cm. Capacity for 1 suckling lamb or 8 adult diners.
Exterior measurement of clay oven 85 cm, useful space 75-77 cm. Capacity for 1.5 suckling lambs or 10 adult diners.
Exterior measurement of clay oven 90 cm, useful space 80-82 cm. Capacity for 2 suckling lambs or 12-14 adult diners.
MEASURES OF THE CONCRETE BASE
The concrete base is made of iron mesh, concrete and fiber in vibrating tables and has 4 anchors for a simpler installation. The base for the measure of 80-85 and 90cm is 120x120cm
CONTACT
If you have any questions we are available at:
Email: info@alfareriarosa.com
Insert your Name:
Email:
Send