Bowl
Ref. CUEN_
Clay pot called bowl, made with refractory clay from Pereruela in Rosa Pottery Workshop. It is a piece that stands out for its beautiful shape, with belly, ideal for stews with broth and all kinds of legumes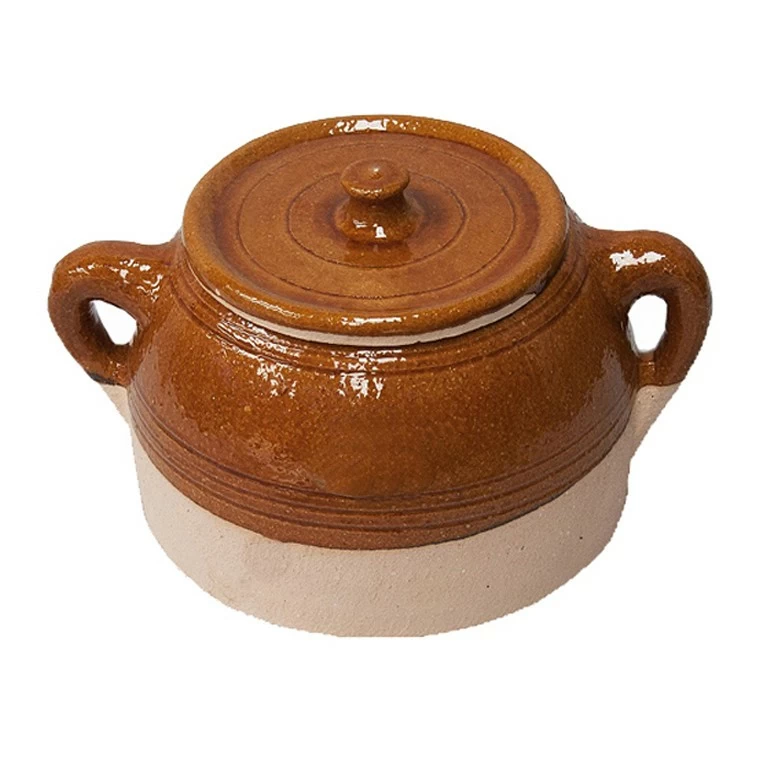 CHARACTERISTICS
Clay pot called bowl, made with refractory clay from Pereruela in Rosa Pottery Workshop.
It is a very useful piece in any kitchen, since you can make all kinds of stews with broth and all kinds of legumes in it.
Its pot-bellied style and shape allows it to have enough capacity and to be used in gas or ceramic stoves, as well as in clay or wood-fired ovens already assembled as the ones offered in our sets in different sizes.In Rosa Pottery Workshop, we make bowls of different diameter measurements from 15 cm to 50 cm.
You can ask other measurements by order, always respecting our artisanal technique and using our refractory clay from Pereruela. The bowl made in Rosa Pottery Workshop can be used in all types of direct fire (electric ovens, wood-fired ovens of Rosa Pottery Workshop, ceramic stoves, induction stoves (with specific adaptor), grills, barbecues, clay ovens, microwaves, chimneys ... ) since it has the property of our refractory clay as it has been cooked at temperatures of over 1000ºC giving it a high resistance to fire
These pieces are glazed with enamels that do not contain lead complying with all the regulations required by the Health Authorities for proper operation with food.
USES.
IT IS USED TO TASTE "COCIDO", MEAT STEWS ........ IDEAL TO PUT IT IN THE WOOD-FIRED / ELECTRIC OVEN
DIAMETER (D) AND HEIGHT (H) MEASUREMENTS OF THE TOP OR BOTTOM OF THE CLAY POT:
D - 16 cm H - 10 cm H+T - 13cm
D - 20 cm H - 13 cm H+T - 16cm
D - 22 cm H - 14 cm H+T - 17cm
D - 25/26 cm H - 15 cm H+T - 18cm
D - 30 cm H - 15 cm H+T - 18cm
D - 35 cm H - 18 cm H+T - 21cm
D - 40 cm H - 19 cm H+T - 23cm
D - 45 cm H - 19 cm H+T - 23cm
D - 50 cm H - 21 cm H+T - 24cm
IMPORTANT NOTE: ALL THE MEASUREMENTS ARE APPROXIMATE AND THEY MAY VARY SOME MILLIMETERS SINCE ALL OF THEM ARE MANUFACTURED IN ARTISANAL WAY AND EVERY PIECE IS DIFFERENT
WE CAN ALSO MANUFACTURE LARGER MEASURES BY ORDER
RECOMMENDATIONS.
The bowl, like other pieces, has two handles of a size according to the size of the piece. Due to the weight of these bowls plus the added weight of the stew inside, we advise all our customers that when using them, do not use only the handles to pick it up, but for a better use it is better to put your hands through those handles and to embrace the bowl with a cloth or gloves the pot. In this way, the weight will be distributed in a uniform way preventing the handles from being damaged
We remember that they are pieces that, like the other pieces that Rosa Pottery Workshop offers, can be used in all kinds of fire (electric ovens, wood-fired oven of Rosa Pottery Workshop, ceramic stoves, induction stoves (with specific adaptor), grills, barbecues, clay ovens, assembled ovens ready to use, ovens with burner, microwave, chimneys ...)
CONTACT
If you have any questions we are available at:
Email: info@alfareriarosa.comFinal del formulario
It may interest you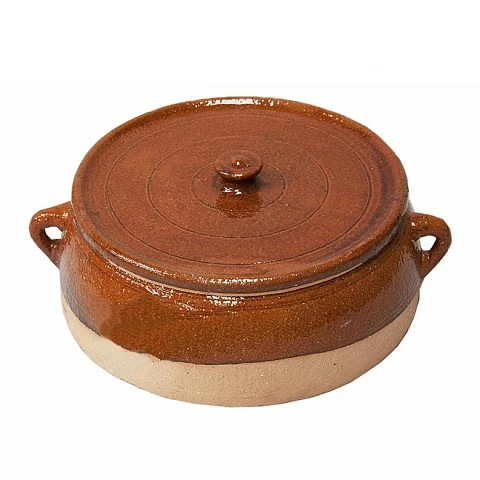 Clay Pot with Lid
Round-shaped piece of refractory clay from Pereruela with two handles and lid that has a height of about 8 cm, the smallest, up to 16 cm the largest. Their diameters range from individual use 15 cm to 50 cm for professional use.
Buy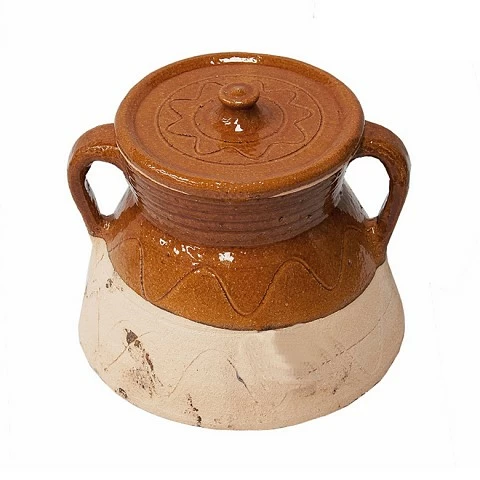 Traditional Pan
Traditional piece with lid, of large height and therefore of good use, for cooking in all types of fires, such as "cocidos", lentils, beans or any type of stew.
Buy
Insert your Name:
Email:
Send